The public consultation ended on 17.12.2018
Public Forums (Cantonese with simultaneous interpretation in English):
Kowloon
Hong Kong
New Territories

Date:

7 November 2018 (Wednesday)

15 November 2018 (Thursday)

17 November 2018 (Saturday)

Time:

7:00pm to 9:00pm

7:00pm to 9:00pm

7:30pm to 9:30pm

Address:

Lecture Theatre,
4/F, West Block,
Education Bureau Kowloon Tong Education Services Centre,
19 Suffolk Road,
Kowloon Tong

Leighton Hill Community Hall,
133 Wong Nai Chung Road,
Happy Valley
Luen Wo Hui Community Hall,
G/F, 9 Wo Mun Street,
Luen Wo Hui, Fanling
Registration:
Members of the public who would like to attend the public forums may reserve seats by calling 3428 5084 during office hours (from 9am to 6pm, Mondays to Fridays except public holidays) or completing the public forum reply slip below and returning the slip by email or by fax. Seats will be allocated on a first-come, first-served basis. Walk-in registration will also be accepted when there are vacant seats on the spot.
Special Arrangements under Inclement Weather Conditions:
The public forum will be cancelled if Tropical Cyclone Warning Signal No.8 or above or the Black Rainstorm Warning Signal issued by the Hong Kong Observatory remains in force 3 hours prior to the commencement of the forum concerned.
Fax: (+852) 2802 2579
Email: rewconsultation@wsd.gov.hk
Video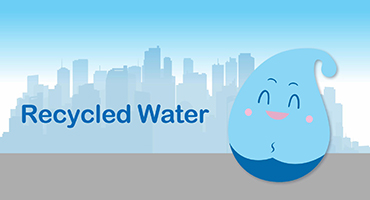 Supply of Recycled Water
in Hong Kong
Download the Transcript