While many places in the world nowadays are still using fresh water for toilet flushing, Hong Kong is one of the few places extensively applying seawater for flushing since the late 1950s. The use of such a sustainable resource continues to play an important role in Hong Kong's water management. About 320 million cubic metres per annum of seawater is supplied, conserving an equivalent amount of fresh water which is about 20% of total water supply. We will continue to extend the use of seawater for flushing to reduce fresh water demand.
Further Extension of Seawater Supply Network
In 2015, the WSD successfully expanded Hong Kong's seawater supply coverage to about 85% of the population. At present, seawater is available to buildings in Northwest New Territories (including Tuen Mun East, Hung Shui Kiu, Tin Shui Wai and Yuen Long Town Centre) and Pok Fu Lam for flushing. We will further extend the seawater supply network to Tung Chung.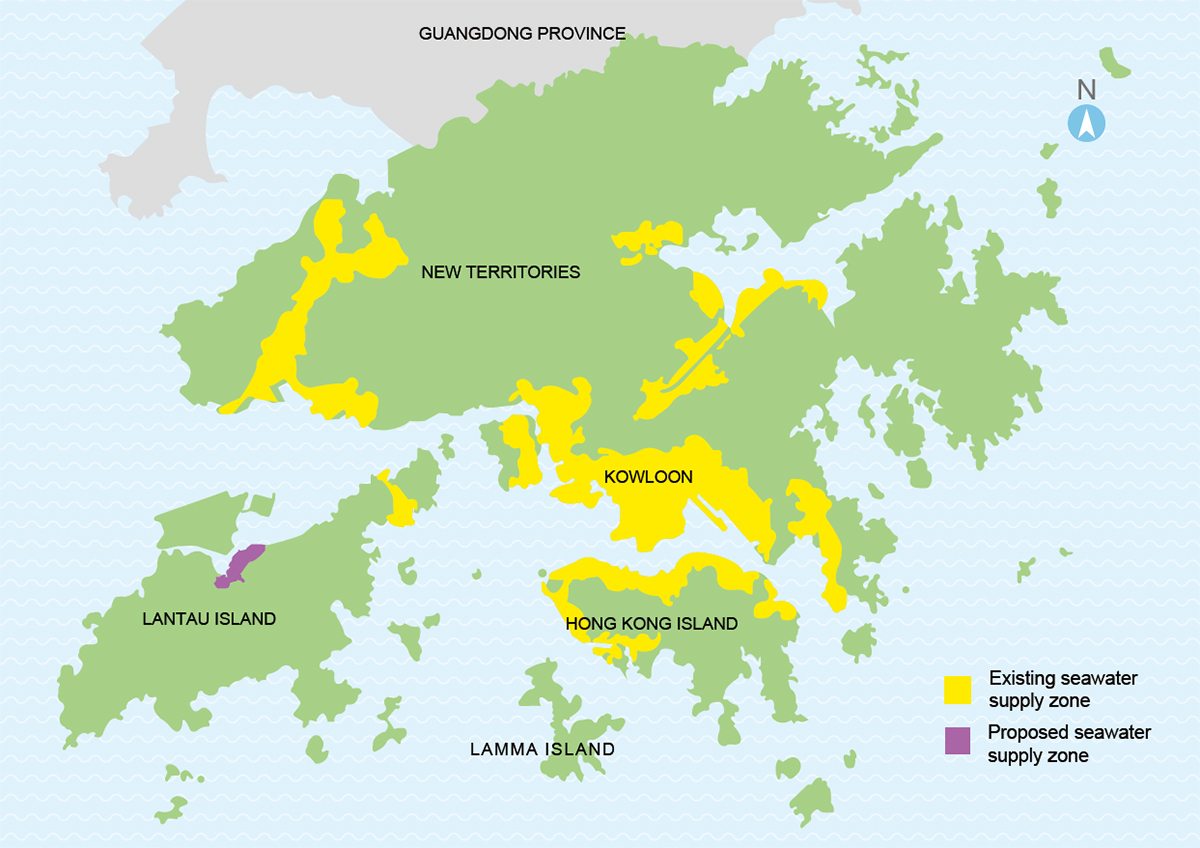 On the other hand, since some of the inland areas (e.g. the North District) are distant from the coast, the construction of a seawater supply system at this stage is uneconomical. Yet, we will review this issue proactively, and, whenever technically feasible and cost-effective, continue to expand our seawater supply system or exploit new water resources (e.g. reclaimed water) in order to further reduce the use of fresh water for flushing.
Quality of Seawater for Flushing
Treatment of seawater is not the same as that of fresh water. Its quality has to comply with the "Water Quality Objectives of Salt Water for Flushing Supply" laid down by the WSD to ensure the quality of seawater for flushing to be acceptable. The seawater is firstly screened by strainers to remove sizeable particles, and then disinfected with sodium hypochlorite to ensure the quality of the treated seawater (salt water) meets the WSD's guideline on colour, turbidity, odour, etc., before being pumped to service reservoirs and for distribution to consumers.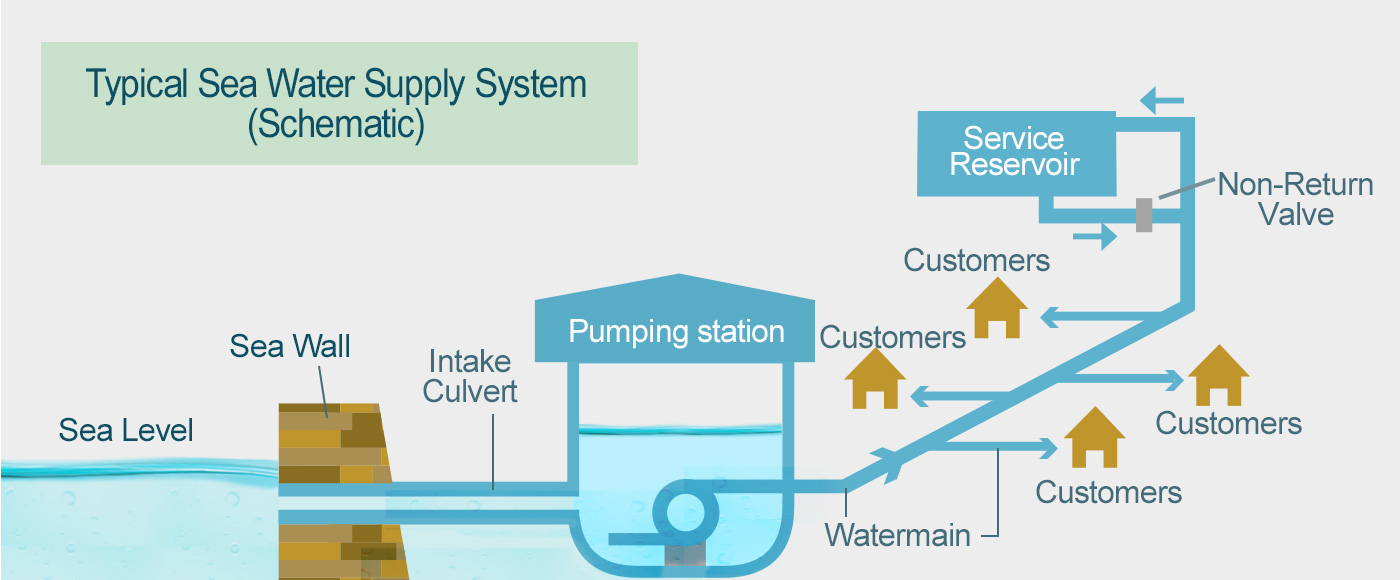 WSD regularly collect water samples from the consumers' toilets to monitor the quality of the salt water supply. The summary of the quality of salt water for the period of April 2022 to March 2023 are as follows:
Salt Water Quality for Flushing Supply for the Period of April 2022 to March 2023
During this reporting period, the compliance rate for the overall quality of salt water supplied for flushing purposes fully meets the performance target of achieving a ≥97% compliance rate with the WQO.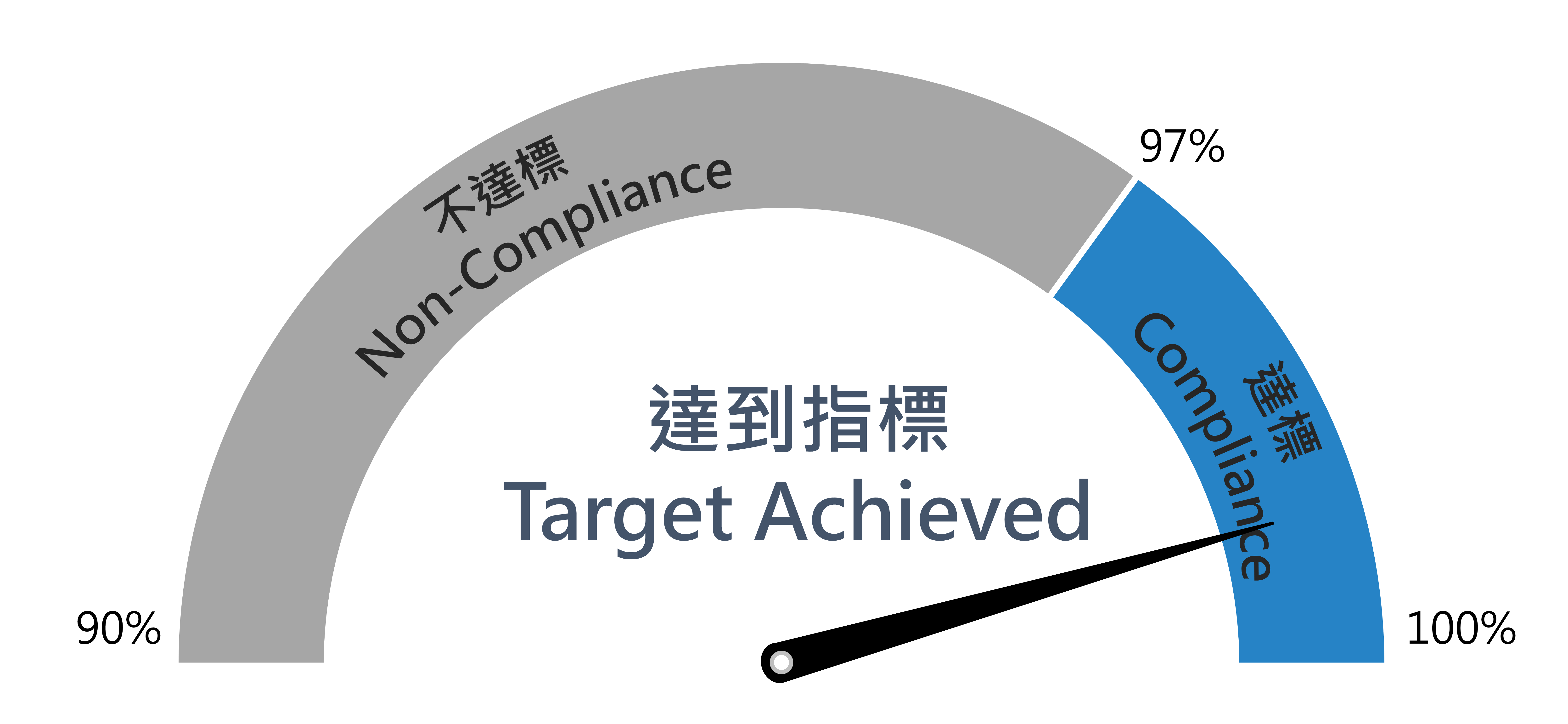 Consumers may consider joining our Quality Water Supply Scheme for Buildings – Flushing Water in order to enhance the hygiene and operation of their building's flushing system. For more details please refer to the web page of Quality Water Supply Scheme for Buildings – Flushing Water.
Conversion to Seawater for Flushing
Conversion to seawater for flushing not only conserves our precious fresh water resource but, owing to lower electricity consumption for supplying seawater than fresh water, also reduces carbon dioxide emission. Consumers, furthermore, can reduce their water bills.
The plumbing materials used in flushing systems approved by the Water Authority (WA) since the 1960s have already been designed to be resistant to seawater corrosion. There should not be any problem with the maintenance of the inside service after conversion to seawater for flushing.
When consumers or property management agencies receive a letter issued by the WA or his delegates about conversion to seawater for flushing, they should employ licensed plumbers to inspect the inside service. If modification works are required, application to the WA is necessary. After inspection/completion of modification works by licensed plumbers, consumers or agencies should apply to the WA for connection to seawater mains. With the required connection fee paid, the WSD will schedule the works for pipe connection and seawater supply.
---