Without natural lakes, large rivers or underground water reserve, Hong Kong faces the challenging task of securing an adequate and sustainable supply of water to meet its development needs. Over the years Hong Kong has developed an extensive rainwater collection and storage system. About one third of Hong Kong's land designated as water gathering grounds where surface runoff is collected for storage. Most of the gathering grounds fall within Country Parks, and are thus protected by the Country Parks Ordinance.
Annual Yield
In the past decade, Hong Kong's annual water consumption was over 930 million cubic metres. The local annual net yield, accounting for only 20% to 30% of the total consumption, was inadequate to meet the huge demand. In addition, the annual figures of rainfall in Hong Kong exhibit drastic fluctuations and the variation could be more than 200 million cubic metres. Together with our undulating terrain, collecting and storing valuable rainwater is very challenging in Hong Kong.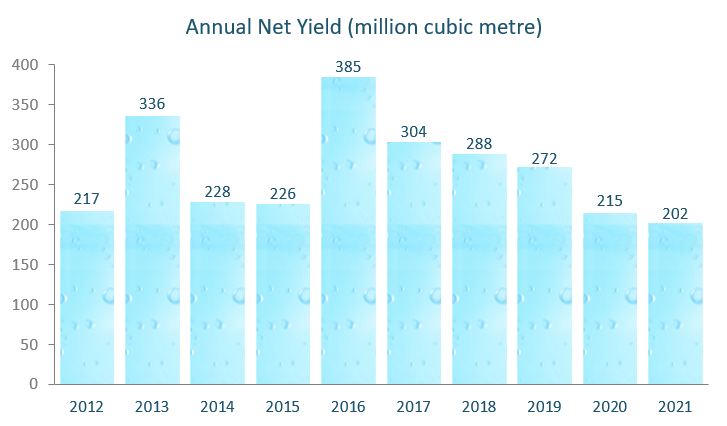 Reservoir Overflow
The overflow from impounding reservoirs in Hong Kong occurs in small and medium impounding reservoirs built between the 19th century and the mid-20th century. As these reservoirs were designed to meet the water demand by that time, they feature relatively small storage capacities and are prone to overflow when the rainwater collected exceeds their capacities during heavy rainstorms.
The overflow quantities from reservoirs in the past three years were 33.8 million cubic metres, 14.2 million cubic metres and 20.7 million cubic meters in 2019, 2020 and 2021 respectively. WSD has been taking measures to minimise the overflow. Since 2014, the raw water from Tai Tam Group Reservoirs has been used for augmentation of the salt water flushing system which significantly reduces the overflow from the Tai Tam Group Reservoirs. Despite the measures taken, the actual overflow quantities are largely dependent of the annual rainfall and its distribution.