More stringent control measures and guidelines over plumbing materials, design, construction and commissioning of new plumbing systems have been implemented progressively since 2015 to strengthen water safety in inside service.
Plumbing Material Control and Design
WSD has updated the plumbing material standards in the Waterworks Regulations for implementation with effect from July 2017.

The General Acceptance (GA) system of WSD which pre-approves plumbing products based on statutory material standards has been updated by:

imposing a five-year validity period of GA for water supply pipes and fittings since August 2015;
launching the voluntary labelling scheme in stages for consumers' easier identification of GA products with water taps and mixers introduced at the first stage in April 2017; and
launching a surveillance programme in October 2017 to spot check the plumbing products with GA by verification test.

WSD promulgated a 'Technical Requirements for Plumbing Works in Buildings' in August 2018 to provide more comprehensive information in a user-friendly manner for reference by the plumbing industry in the design of plumbing installations. The updated 'Technical Requirements for Plumbing Works in Buildings' was issued in October 2019.
Construction
WSD has proposed legislative amendments in April 2017 to define the duties of licensed plumbers (LPs), including setting out clearly the persons designated for carrying out plumbing works (including plumbing workers) and their responsibilities, for consideration by the Legislative Council. The relevant amendments through Waterworks (Amendment) Ordinance 2018 have come into force on 15 February 2018.

LPs' knowledge and professionalism have been enhanced by :

strengthening the syllabi of LP training courses since September 2016 by covering the potential causes and hazards of drinking water contaminations as well as the associated precautionary measures; and
implementing the voluntary Continuing Professional Development Scheme for LPs since October 2016 in collaboration with the plumbing industry stakeholders.

WSD has stepped up the regulatory control of new plumbing installations by carrying out pilot scheme for random inspection of fresh water plumbing works under construction with effect from April 2017 on a risk-based approach taking into account the risk factors and consequence of non-compliance.
WSD and the Construction Industry Council jointly published the "Good Practice Guide on Plumbing Works" in March 2017, which recommends good practice to relevant stakeholders for carrying out design and construction of different types of plumbing works, and places emphasis on the importance of plumbing material control during procurement, supervision and on-site material checking and testing.
WSD has set forth a holistic review of the Waterworks Ordinance on, inter alia, considering defining the roles, involvements and responsibilities of relevant parties responsible for the design, construction and maintenance of inside services, including possible introduction of a registration regime for plumbing contractors in the legislation to undertake more complex and larger plumbing works.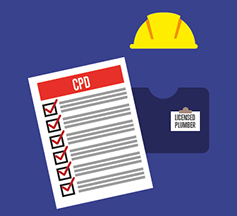 Commissioning
WSD has stipulated the requirements for carrying out non-destructive tests on solder pipe joints and water sampling tests for four heavy metals including lead since August 2015 to enhance the inspection and approval of inside services. Furthermore, a systematic flushing protocol was introduced in July 2017 for new plumbing installations with a view to reducing metal leaching from new pipes and fittings. In October 2017, WSD further introduced the six-hour stagnation water sampling test and two new metal testing parameters to ensure that the new plumbing installations have been adequately flushed. And from January 2018 onwards, systematic flushing and six-hour stagnation water sampling test results were made as the commissioning requirements. The requirement of more detailed flushing record submission was also implemented in September 2018.