With no natural lakes, large rivers or underground water, Hong Kong faces the daunting task of securing a stable and adequate supply of water to meet its development needs. Over the years Hong Kong has developed an extensive rainwater collection and storage system. About one third of Hong Kong's land is used as water gathering grounds where surface runoff is collected for storage. At present, around one-third of the gathering grounds are designated as part of the territory's Country Parks to gather and store rainwater. Most of the gathering grounds overlap with Country Parks, and are thus protected by the Country Parks Ordinance.
Annual Net Yield
In the past decade, Hong Kong's annual water consumption was over 920 million cubic metres. Our annual net yield, covering only 20% to 30% of the total consumption, was inadequate to meet the huge demand. In addition, the rainfall pattern in Hong Kong is unreliable, and the difference in the quantities of local yield could be up to 200 million cubic metres. Together with our undulating terrain, all these factors make collecting and storing valuable rainwater more difficult.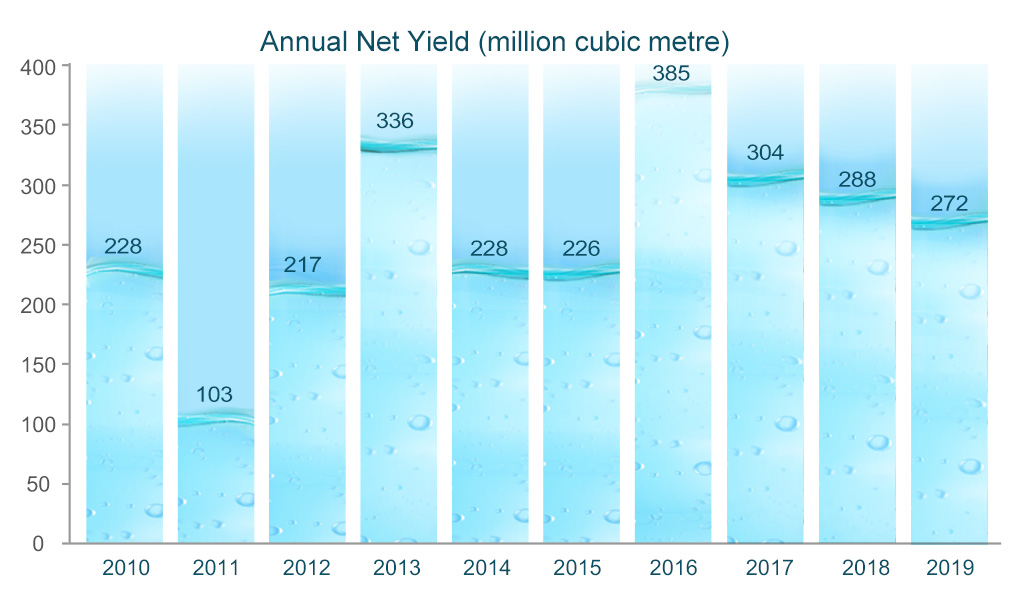 Reservoir Overflow
Hong Kong's rainfall varies greatly from the rainy season to the dry season. Therefore, we need to construct reservoirs as buffers to cope with the imbalance in water supply and demand in different seasons. In this connection, when designing the water catchments and capacities of reservoirs, our main concern is whether the amount of water collected in the catchments and stored in the reservoirs can cope with the demand of the designated areas in dry years.
Overflow was locally collected rainwater naturally discharged from small (e.g. Tai Tam Group Reservoirs and Aberdeen Reservoir) and medium (e.g. Shek Pik Reservoir and Tai Lam Chung Reservoir) reservoirs during heavy and continuous rainstorms and there was no additional expenditure incurred. If we were to reduce the chance of overflow from these impounding reservoirs, we would have to raise the height of the dams of these small to medium impounding reservoirs to increase the storage capacity. However, this will involve very substantial construction costs and the extra storage capacities would be of no use most of the time. Hence, we need to strike a balance between capital investments and overflow quantities.
The overflow quantities from reservoirs in the past three years were 3.3 million cubic metres, 28.5 million cubic metres and 48.4 million cubic metres in 2015, 2016 and 2017 respectively. The WSD has been exploring options for reduction of the overflow quantities. Since 2014, the raw water from Tai Tam Group Reservoirs has been used for augmentation of the salt water flushing system which largely reduces the overflow from the Tai Tam Group Reservoirs.
Conserving Gathering Grounds
Most of the gathering grounds are designated as part of the territory's Country Parks to conserve the previous natural environment of Hong Kong. The public should refrain from contaminating them. Hikers in particular should protect these precious water resources while enjoying the beautiful scenery there. Furthermore, the gathering grounds and impounding reservoirs are prone to serious flooding, they are definitely not suitable for water play or swimming.
According to the Waterworks Ordinance Section 30(2)(a), any person who enters, or bathes or washes in, water forming part of the waterworks; Section 30(2)(b), any person who washes or causes or permits any animal to enter therein; and Section 30(2)(c), any person who throws or places any thing therein, shall be guilty of an offence. For instance, hikers were convicted of entering water at the gathering ground in Shui Lo Cho at Yi O on Lantau Island in contravention of the Ordinance, and were each fined $500.
For details please refer to: http://www.info.gov.hk/gia/general/201707/25/P2017072500415.htm
To publicize against contaminating our fresh water sources, we have implemented continuous education and publicity initiatives to raise public awareness, including erection of warning signs/banners in the vicinity, distribution of leaflets, and display of posters. Moreover, in Yi O Raw Water Intake, we have provided security guards to station during the day time, conduct regular inspections and take enforcement and prosecution actions.
Members of the public are advised to report any suspected violations of the Waterworks Ordinance to the WSD's 24-hour hotline at 2824 5000.